Detectives United II: The Darkest Shrine Collector's Edition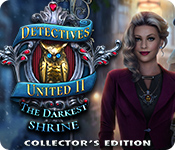 1.11 GB

Hent
This game is English only.Big Fish Editor's Choice! This title was selected for its exceptional quality and overwhelmingly positive reviews from our Game Club beta testers. Your favorite detectives have teamed up for another mystery and this one spans the globe! James, Anna, and the Mystery Trackers each rush to investigate paranormal activity related to places from their past cases. Meanwhile, a dark organization looms over them all, threatening to take them out, one-by-one. Will they survive, or will this be their final case? Find out in this heart-pounding hidden-object puzzle adventure game! See what our Beta testers had to say: "Elephant Games has done it again! Rich graphics, combined with attention grabbing storylines, makes for a most enjoyable gaming experience! I found nothing at all about this game to dislike." - beta tester "I loved it! I've played all of the Grim Tales so it was great to see Anna and her Dad again. It was also fun having three different detectives to play. I will certainly be purchasing the first one, and I hope that the second one comes out very soon. I definitely think this is a five stars game!!!" - beta tester - Detectives United II: The Darkest Shrine Collector's Edition
Detectives United II: The Darkest Shrine Collector's Edition
:
Travel to an alternate reality in the bonus game!
Replay HOPs and mini-games from castles and caves, and earn achievements!
Tons of collectible figurines, puzzle parts, and morphing objects to find!
Enjoy an exciting Secret Room challenge, exclusive wallpapers, music, and more!
Never get lost with the strategy guide!
Windows 7/Windows 8/Windows 10 - 1.6 GHz - 1 GB
Top PuzzleMore