Fright Chasers: Director's Cut Collector's Edition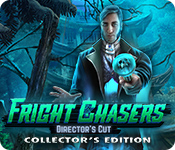 660 MB

Hent
This game is English only.Mad Head Games presents the latest spine-tingling installment of the Fright Chasers series! When rumors of an abandoned movie theater and the ghosts that can apparently abduct the living there appear on your blog, you eagerly go to investigate. When you arrive, you quickly find truth to the tales as you encounter specters from the very movies shown in the theater! Can you navigate your way through dangerous films to save the living in time? Find out in this thrilling Hidden-Object Puzzle adventure! - Fright Chasers: Director's Cut Collector's Edition
Fright Chasers: Director's Cut Collector's Edition
:
Jump into one last haunted film reel and outsmart a witch to rescue your friend in the bonus game!
Replay your favorite HOPS, collect achievements, discover a new mini-game, and play a massive, culminating HOP!
Tons of morphs and collectibles to find!
Enjoy exclusive wallpapers, concept art, and music!
Never get lost with the strategy guide!
Windows XP/Windows Vista/Windows - 2.5 GHz - 1 GB
Top PuzzleMore