Labyrinths of the World: Fool's Gold Collector's Edition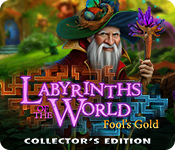 1.26 GB

Hent
This game is English only.Domini Games brings you the latest spell-binding addition to the Labyrinths of the World series! When your friend, an Irish mythology expert, wants to check out a new Leprechaun museum, you're both off to Ireland! But your luck quickly turns when her wish transports her through a pot of gold to the World of Leprechauns! Someone's using magic to lure humans to their realm, and only you can find out why. Do you have what it takes to uncover their sinister plan and rescue your friend in time? Find out in this sensational Hidden-Object Puzzle adventure! - Labyrinths of the World: Fool's Gold Collector's Edition
Labyrinths of the World: Fool's Gold Collector's Edition
:
Join the quest to capture Aaron McDawdle, failed student of magic. Magic has overwhelmed him! Keep him from assembling the Worlds Crown and the Drake Amulet. Restore the Taming Staff - and bring Aaron out of the magic trance!
Search for flying fairies, leprechaun figures, and Celtic crosses hidden throughout the game! You'll be well rewarded!
Replay your favorite HOPs and mini-games - and earn even more achievements!
Enjoy and save the extra wallpapers, concept art, videos, and music.
Keep your adventure on track with the strategy guide!
Windows 7/Windows 8/Windows 10 - 2.0 GHz - 1 GB
Top PuzzleMore