Halloween Stories: Horror Movie Collector's Edition Game Free Download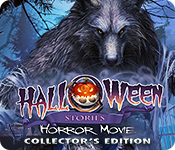 Free Download (924 MB)

Download
The nightmare continues with another new tale to terrify! Elephant Games proudly presents Halloween Stories: Horror Movie! Nobody believed Ellie when her three best friends were pulled into a cursed horror movie on Halloween night. But two years later to the day, the infernal tape has returned, and now it's up to Ellie to rescue her long-lost friends and survive the very real ghosts, creeps, and slashers behind the movie magic! Are you brave enough to guide Ellie through three terror-packed films where danger lurks in every dark corner? There's only one way to find out! - Halloween Stories: Horror Movie Collector's Edition
Halloween Stories: Horror Movie Collector's Edition
:
Join Detective Jessica Holmes in investigating strange events at the local high school.
Search for spooky hidden figures, puzzle pieces, and morphing objects. Explore more in the Secret Room!
Replay your favorite HOPs and mini-games - and earn more achievement awards!
Remember the high notes of the game! Save and enjoy wallpapers, concept art, and music.
Keep your adventure on track with the strategy guide!
Windows 7/Windows 8/Windows 10 - 1.6 GHz - 1 GB
Top Puzzle GamesMore
New Puzzle GamesMore