Haunted Hotel: Room 18 Collector's Edition Game Free Download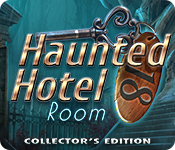 Free Download (941 MB)

Download
Elephant Games has your reservation for another terrifying stay in their Haunted Hotel series – care to check in? When John and James Blackthorn are invited to a family reunion at the Sweet 18 hotel, they arrive expecting a relaxing weekend catching up with relatives, but aside from the desk clerk, the hotel is empty. It soon becomes clear that they're not alone; a dark mist haunts the halls of the creepy hotel and it seems to know something the brothers don't. What secrets does it know and more importantly, what does it want? Can you discover what stalks the corridors of the Sweet 18 and learn its secrets? - Haunted Hotel: Room 18 Collector's Edition
Haunted Hotel: Room 18 Collector's Edition
:
Work with Samuel Blackthorn and his nephew to exile the ghosts trapped in the Haunted Hotel.
Search for hidden figurines, souvenirs, and morphing objects. Then find more in the Secret Room!
Replay your favorite HOPs and mini-games - and earn even more achievements!
Enjoy and save memorable wallpapers, concept art, and music.
Keep your adventure on track with the strategy guide!
Windows 7/Windows 8/Windows 10 - 1.6 GHz - 1 GB
Top Puzzle GamesMore
New Puzzle GamesMore