Surface: Strings of Fate Collector's Edition Game Free Download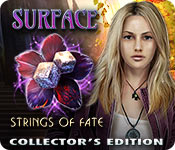 Free Download (1.76 GB)

Download
Elephant Games brings you the latest installment of the Surface series! Your little sister has been kidnapped by two Brothers of Fate! With the help of a third Brother, it's up to you to save her. With the odds stacked against you, can you find a way into another world and rescue her in time?! Find out in this spell-binding hidden-object puzzle adventure! - Surface: Strings of Fate Collector's Edition
Surface: Strings of Fate Collector's Edition
:
How far would you go to save the one you love in the bonus game?
If you need a hand, reference the comprehensive strategy guide.
Collect hidden dolls to unlock stories for each major character.
Find hidden flowers to unlock extra HOPs in the Secret Room.
Enjoy concept art, wallpapers, soundtrack, replayable HOPs, mini-games, and more!
Windows XP/Windows Vista/Windows - 2.0 GHz - 1 GB
Top Puzzle GamesMore
New Puzzle GamesMore