Delicious: Emily's Hopes and Fears Collector's Edition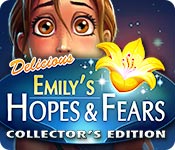 534 MB

Scarica
Delicious: Emily's Hopes and Fears takes you on an adventure like no other before... During the hottest summer of the century, Paige fights to survive a mysterious disease. While Emily stays unwaveringly by her struggling daughter's side, Patrick embarks on an epic journey through the blistering cold in search of the only cure: a magical flower... Can he save his little girl? - Delicious: Emily's Hopes and Fears Collector's Edition
Delicious: Emily's Hopes and Fears Collector's Edition
:
Enjoy the 12th season of the Delicious time management game series.
Complete 65 challenging yet curiously relaxing story levels, plus 32 extra challenges.
Jump into an amazing adventure, and help Patrick find the magical flower.
Help Emily hold on to hope in times of uncertainty and fear, and collect presents to cheer up Paige.
Windows XP/Windows Vista/Windows - 3.0 GHz - 512 MB
Top Gestione Del TempoMore
Gestione Del TempoMore